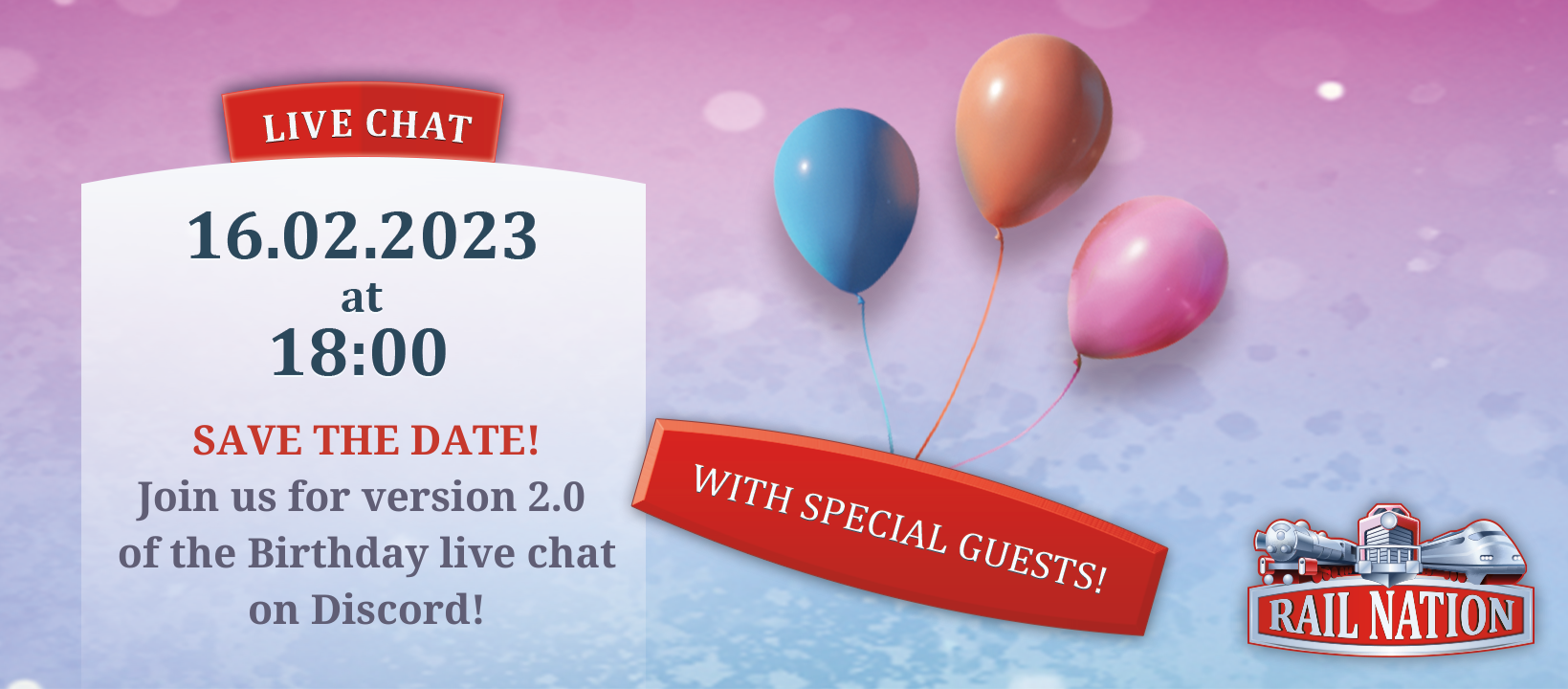 Rail Nation 10th Birthday Live Chat 2.0 
The Birthday Special Scenario and Community Conductor 2022! 
The Birthday Special Scenario game worlds are going to open soon! Are you all excited? We sure are.
Now that everyone had the chance to read up on ALL the details around and about the Birthday Special Scenario, we are sure there are also some questions floating about.  
How do I get that tasty avatar costume? Who came up with the whole sweet setup? And most importantly, why can't I eat that cake train?? 
These and many other questions will get answered in our Rail Nation 10th Birthday Live Chat 2.0! And this time, we'd like to give you all the chance to send in all the questions you might have – either from reading the details or, from playing the Birthday Special Scenario in a few days.  
How do I send in my questions, you might ask? Easy-peasy, just share your questions on Discord by latest Monday, 13.02.2023 at 2 pm CET, in your feedback channel and mark them with 'Birthday Voice' so your Community Manager can find them easily and add them to our list. We will gather all your questions, concerns and feedback and attempt to reply and talk about as many of your submissions as possible during our chat. As per usual, the players whose questions get answered during the live chat will receive a bonus code the day after the live chat. 
Last but surely not least, we are looking forward to crowning our Community Conductor 2022!  
Details:
Date: 16.02.2023
Start: 18:00 CET
End: Approx. 19:00 CET
Where: Discord in the Lounge Voice Chat
Stay tuned to find out which special guests will join Rowena this time and grab some more awesome vouchers during our live chat.
We are looking forward to seeing you there! 
Your Rail Nation Team