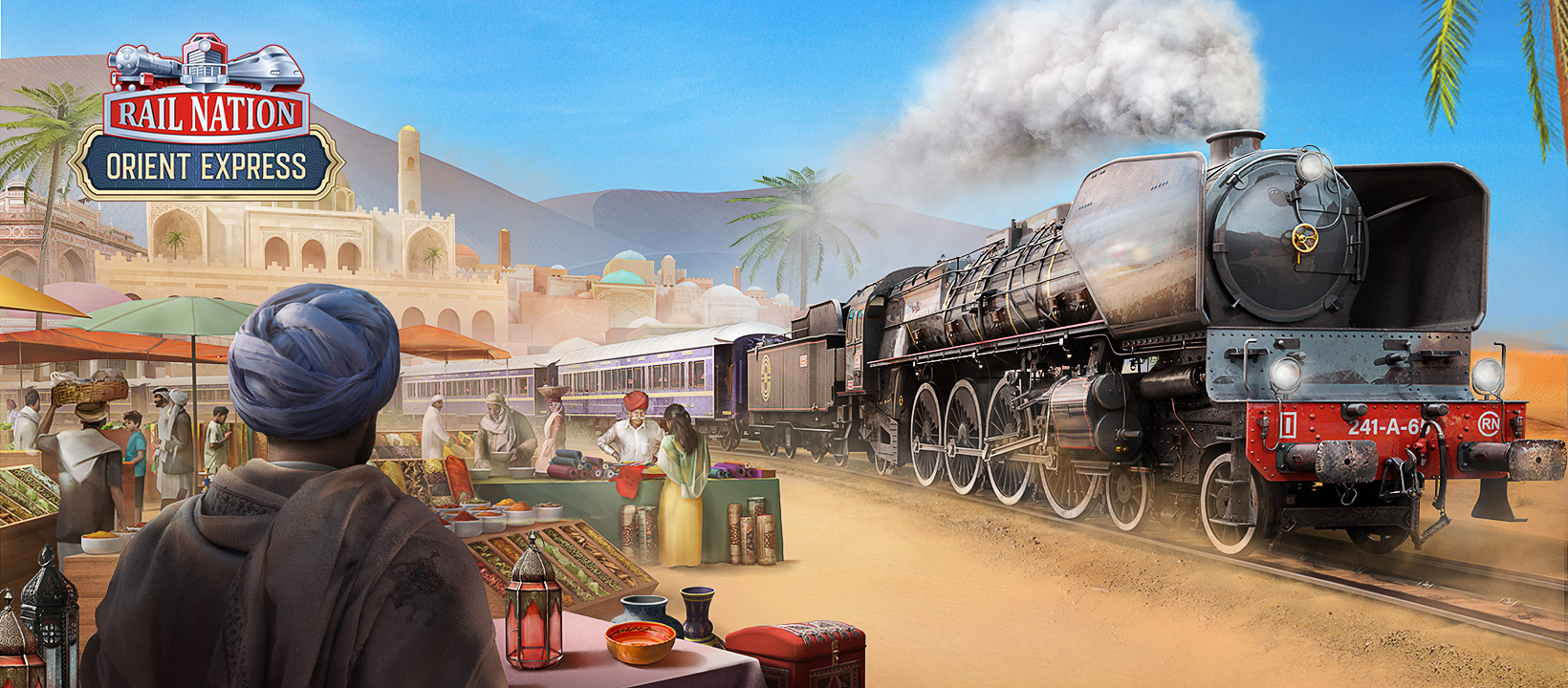 It is time now for the mythical Orient. It is time now to get on board the most iconic train of all times, travelling thru legendary European, Middle-Eastern and African cities. It is time now to haul and trade precious goods, to try different strategies, form new alliances, hire new workers, and above all it is time to have the most fun you could possibly have.
Orient Express is six dedicated servers (all x1 speed):
Launching October 18th:
DE-601 "Fata Morgana"
DE-602 "1001 Nacht"
RU-601 "Desert"
Launching October 20th:
INT-601 "Oasis"
EN-601 "Camel"
EE-601 "Dune"
It is 36 cities, the largest map we ever designed, 60 goods – 17 of which totally new and only accessible on Orient Express, 12 new workers and new career achievements.
But what else is it!? A couple of weeks after the servers launch, this will be a very special event, a mysterious and exciting crime investigation that will follow your Orient Express adventure and will run as a community event via Discord and emails where you will have to be smart, attentive, precise and thorough like a real sleuth on the lookout for an elusive suspect. Keep an eye on our Discord channels for more information.
Discover all the details below, part of the dedicated game design and balance we gave the Orient Express scenario intended for a faster city growth with 2 more city levels per era!
Do not miss out: departure on the 18th and the 20th of October.
Goods
| | | | | |
| --- | --- | --- | --- | --- |
| Good | Era | From city level | Goods required | Waggon costs |
| Coal | 1 | 1 | – | $5.000 |
| Grain | 1 | 1 | – | $5.000 |
| Wood | 1 | 1 | – | $5.000 |
| Water | 1 | 2 | – | $15.000 |
| Boards | 1 | 2 | Wood | $15.000 |
| Cinnamon | 1 | 4 | – | $15.000 |
| Iron Ore | 1 | 4 | – | $10.000 |
| Camels | 1 | 6 | Grain, Water | $20.000 |
| Quartz | 1 | 6 | – | $15.000 |
| Cotton | 1 | 8 | – | $15.000 |
| Iron | 1 | 8 | Coal, Iron Ore | $20.000 |
| Tea Leaves | 1 | 8 | – | $15.000 |
| Milk | 2 | 11 | Camels | $15.000 |
| Tobacco | 2 | 11 | – | $15.000 |
| Thread | 2 | 13 | Cotton | $15.000 |
| Flour | 2 | 13 | Grain | $17.500 |
| Copper Ore | 2 | 13 | – | $25.000 |
| Tea | 2 | 16 | Tea Leaves, Water | $20.000 |
| Hardware | 2 | 16 | Coal, Iron | $30.000 |
| Cheese | 2 | 16 | Milk | $25.000 |
| Leather | 2 | 16 | Camels | $17.500 |
| Saffron | 2 | 20 | – | $35.000 |
| Textiles | 3 | 21 | Thread | $25.000 |
| Pastries | 3 | 21 | Water, Flour | $27.500 |
| Coffee Beans | 3 | 23 | – | $30.000 |
| Glass | 3 | 23 | Quartz | $40.000 |
| Meat | 3 | 23 | Camels | $25.000 |
| Copper | 3 | 23 | Coal, Copper | $35.000 |
| Cumin | 3 | 27 | – | $40.000 |
| Shoes | 3 | 27 | Leather, Hardware | $35.000 |
| Steel | 3 | 27 | Coal, Iron | $35.000 |
| Carpet | 3 | 30 | Thread | $50.000 |
| Coffee | 4 | 31 | Water, Coffee Beans | $55.000 |
| Windows | 4 | 31 | Boards, Glass | $50.000 |
| Coriander | 4 | 33 | – | $50.000 |
| Wires | 4 | 33 | Copper | $70.000 |
| Clothing | 4 | 35 | Textiles, Shoes | $70.000 |
| Dates | 4 | 35 | Wood, Water | $60.000 |
| Crude Oil | 4 | 35 | – | $60.000 |
| Pottery | 4 | 35 | Quartz | $90.000 |
| Spices | 4 | 39 | Cinnamon, Saffron, Cumin, Coriander | $80.000 |
| Pipes | 4 | 39 | Hardware, Copper | $110.000 |
| Chemicals | 5 | 41 | Crude Oil | $80.000 |
| Lamps | 5 | 41 | Glass, Wires | $95.000 |
| Sheet Metal | 5 | 43 | Steel, Pipes | $90.000 |
| Fabric | 5 | 43 | Textiles | $100.000 |
| Food | 5 | 45 | Pastries, Meat, Cheese, Spices | $70.000 |
| Plastics | 5 | 45 | Chemistry | $85.000 |
| Paper | 5 | 45 | Wood | $75.000 |
| Lantern | 5 | 48 | Sheet, Glass | $100.000 |
| Paint | 5 | 48 | Water, Chemistry | $120.000 |
| Water Pipes | 5 | 48 | Glass, Water, Tobacco, Coal | $125.000 |
| Stainless Steel | 6 | 51 | Steel, Chemicals | $120.000 |
| Machinery | 6 | 51 | Wires, Pipes, Sheet Metal | $110.000 |
| Vases | 6 | 53 | Glass, Paint | $130.000 |
| Petrol | 6 | 53 | Chemicals, Crude Oil | $100.000 |
| Toiletries | 6 | 53 | Stainless Steel, Ceramics | $145.000 |
| Cars | 6 | 53 | Machines, Windows, Sheet Metal, Lamps | $120.000 |
| Pharmaceuticals | 6 | 53 | Chemicals, Plastics | $150.000 |
| Household supplies | 6 | 53 | Stainless Steel, Glass, Food | $90.000 |
Cities
| | | |
| --- | --- | --- |
| | City | Location |
| 1 | London | Europe |
| 2 | Paris | Europe |
| 3 | Strasbourg | Europe |
| 4 | Berlin | Europe |
| 5 | Prague | Europe |
| 6 | Vienna | Europe |
| 7 | Budapest | Europe |
| 8 | Venice | Europe |
| 9 | Rome | Europe |
| 10 | Athens | Europe |
| 11 | Belgrade | Europe |
| 12 | Bucharest | Europe |
| 13 | Sofia | Europe |
| 14 | Istanbul | Orient |
| 15 | Konya | Orient |
| 16 | Aleppo | Orient |
| 17 | Mosul | Orient |
| 18 | Baghdad | Orient |
| 19 | Basra | Orient |
| 20 | Riyadh | Orient |
| 21 | Doha | Orient |
| 22 | Dubai | Orient |
| 23 | Maskat | Orient |
| 24 | Salala | Orient |
| 25 | Sana'a | Orient |
| 26 | Mecca | Orient |
| 27 | Medina | Orient |
| 28 | Jerusalem | Orient |
| 29 | Cairo | Orient |
| 30 | Bengasi | Orient |
| 31 | Tripoli | Orient |
| 32 | Tunis | Orient |
| 33 | Algiers | Orient |
| 34 | Tehran | Orient |
| 35 | Hamadan | Orient |
| 36 | Ashgabat | Orient |
Orient Express Shop Bundle Bonus Engine
Stats improve automatically per era (like the Primus)
| | | | | | |
| --- | --- | --- | --- | --- | --- |
| Era | Speed (kph) | Acceleration | Reliability | Passengers | Price |
| 1 | 100 | 13 | 95% | 90 | $150.000 |
| 2 | 120 | 13 | 95% | 120 | $300.000 |
| 3 | 150 | 13 | 95% | 150 | $450.000 |
| 4 | 175 | 13 | 95% | 200 | $600.000 |
| 5 | 190 | 13 | 95% | 275 | $750.000 |
| 6 + & EG | 210 | 13 | 95% | 400 | $900.000 |
Orient Express Workers
| | | |
| --- | --- | --- |
| Worker | Era | Effect |
| Thomas Edward Lawrence | 1 | +20% for Grain and Camels |
| Gertrude Bell | 2 | +20% for Saffron and Cinnamon |
| Charles "Earl" Grey | 2 | +20% for Tea Leaves and Tea |
| Ali Baba | 3 | +40% for Carpets |
| Özdemir Pasha | 4 | +20% for Coffee Beans and Coffee |
| Ahmed Zewail | 4 | +20% for Cumin and Coriander |
| Antoine Galland | 4 | +40% for Dates |
| Humphrey Bogart | 4 | +40% for Spices |
| Marco Polo | 5 | +40% for Silk |
| Johannes Itten | 5 | +20% for Water and Paint |
| Hercule Poirot | 5 | +20% for Tobacco and Water Pipes |
| Agatha Christie | 6 | +20% for Lanterns and Vases |
City Requirement
| | | |
| --- | --- | --- |
| Level | Required tons of goods | Required passengers (depending on player count and distance to next city) |
| 1 | 3.000 | – |
| 2 | 4.000 | – |
| 3 | 5.000 | – |
| 4 | 6.000 | – |
| 5 | 7.000 | 300.000 |
| 6 | 8.000 | 450.000 |
| 7 | 9.000 | 600.000 |
| 8 | 10.000 | 750.000 |
| 9 | 11.000 | 900.000 |
| 10 | 12.000 | 1.050.000 |
| 11 | 13.000 | 1.200.000 |
| 12 | 14.000 | 1.350.000 |
| 13 | 15.000 | 1.500.000 |
| 14 | 16.000 | 1.650.000 |
| 15 | 17.000 | 1.800.000 |
| 16 | 18.000 | 1.950.000 |
| 17 | 19.000 | 2.100.000 |
| 18 | 20.000 | 2.250.000 |
| 19 | 21.000 | 2.400.000 |
| 20 | 22.000 | 2.550.000 |
| 21 | 23.000 | 2.700.000 |
| 22 | 24.000 | 2.850.000 |
| 23 | 25.000 | 3.000.000 |
| 24 | 26.000 | 3.150.000 |
| 25 | 27.000 | 3.300.000 |
| 26 | 28.000 | 3.450.000 |
| 27 | 29.000 | 3.600.000 |
| 28 | 30.000 | 3.750.000 |
| 29 | 31.000 | 3.900.000 |
| 30 | 32.000 | 4.050.000 |
| 31 | 33.000 | 4.200.000 |
| 32 | 34.000 | 4.350.000 |
| 33 | 35.000 | 4.500.000 |
| 34 | 36.000 | 4.650.000 |
| 35 | 37.000 | 4.800.000 |
| 36 | 38.000 | 4.950.000 |
| 37 | 39.000 | 5.100.000 |
| 38 | 40.000 | 5.250.000 |
| 39 | 41.000 | 5.400.000 |
| 40 | 42.000 | 5.550.000 |
| 41 | 43.500 | 5.700.000 |
| 42 | 45.000 | 5.850.000 |
| 43 | 46.500 | 6.000.000 |
| 44 | 48.000 | 6.150.000 |
| 45 | 49.500 | 6.300.000 |
| 46 | 51.000 | 6.450.000 |
| 47 | 52.500 | 6.600.000 |
| 48 | 54.000 | 6.750.000 |
| 49 | 55.500 | 6.900.000 |
| 50 | 57.000 | 7.050.000 |
| 51 | 58.500 | 7.200.000 |
| 52 | 60.000 | 7.350.000 |
| 53 | 61.500 | 7.500.000 |
| 54 | 63.000 | 7.650.000 |
| 55 | 64.500 | 7.800.000 |
| 56 | 66.000 | 7.950.000 |
| 57 | 67.500 | 8.100.000 |
| 58 | 69.000 | 8.250.000 |
| 59 | 72.000 | 8.400.000 |
| 60 | 75.000 | 8.550.000 |
| 61 | 80.000 | 8.700.000 |
| 62 | 85.000 | 8.850.000 |
| 63 | 90.000 | 9.000.000 |
| 64 | 95.000 | 10.000.000 |
| 65 | 100.000 | 11.000.000 |
| 66 | 105.000 | 12.000.000 |
| 67 | 110.000 | 13.000.000 |
| 68 | 115.000 | 14.000.000 |
| 69 | 120.000 | 15.000.000 |
| 70 | 125.000 | 16.000.000 |
| 71 | 130.000 | 17.000.000 |
| 72 | 135.000 | 18.000.000 |
| 73 | 140.000 | 19.000.000 |
| 74 | 145.000 | 20.000.000 |
| 75 | 150.000 | 21.000.000 |
| 76 | 155.000 | 22.000.000 |
| 77 | 160.000 | 23.000.000 |
| 78 | 165.000 | 24.000.000 |
| 79 | 170.000 | 25.000.000 |
| 80 | 175.000 | 26.000.000 |
Career Achievements
| | |
| --- | --- |
| Prestige reached in game round | Career Points |
| >25.000 | 25 |
| >50.000 | 25 |
| >100.000 | 50 |
| >200.000 | 100 |
| >300.000 | 100 |
| >400.000 | 100 |
| >500.000 | 100 |
| >750.000 | 250 |
| >1.000.000 | 250 |