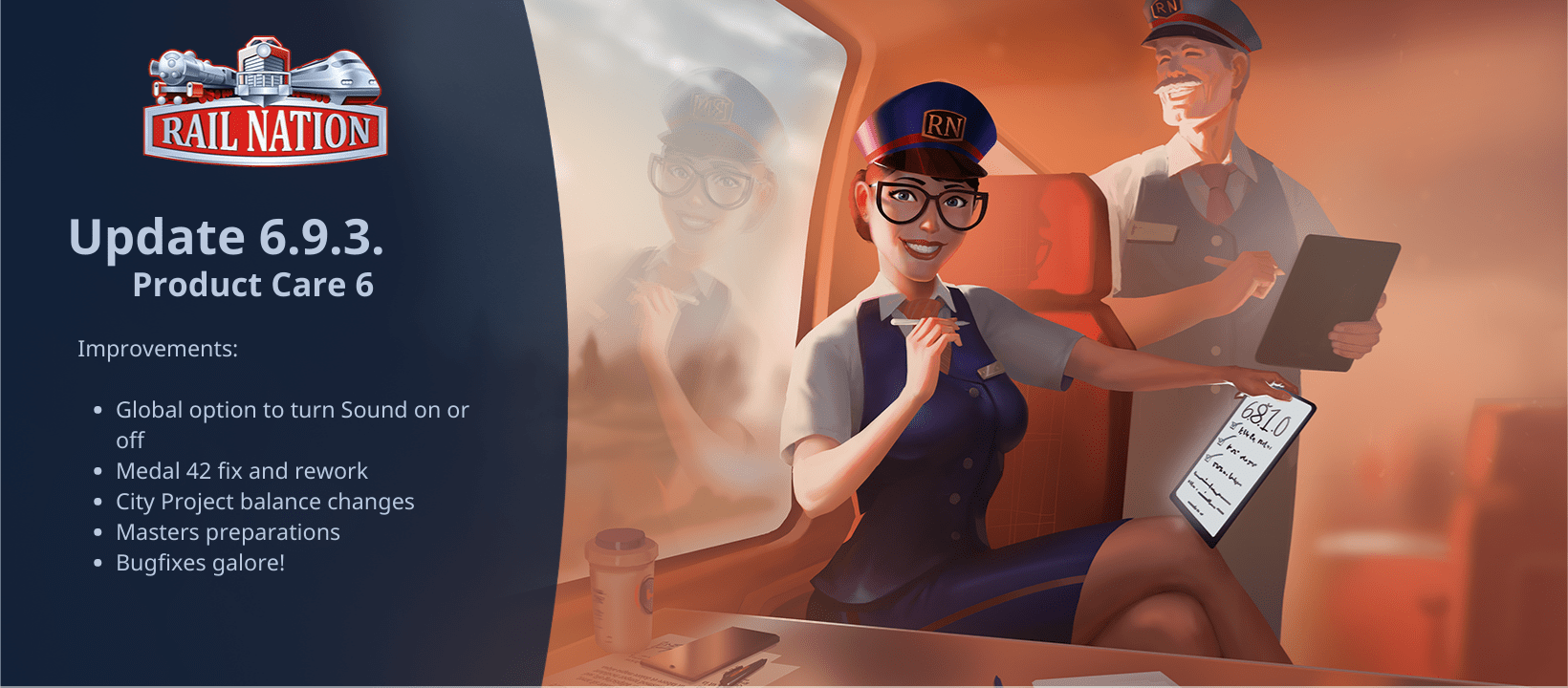 Dear Community,
We've been working hard to address the pesky issue that has plagued our gameplay experience: the mysterious sound bug that had a mind of its own. No more will you be caught off guard by a sudden symphony of audio when it should be as silent as a whisper.
A personal message from us to your ears: you're welcome!
Ah… and then there's Medal 42, the mischievous pop-up that had a knack for showing up when it shouldn't. Fear not, for we have tamed this quirky quirk and given it a new name and an adjusted task.
Of course, this was not all 😊 Apart from some preparations for the anticipated Rail Nation Masters in August, we have worked hard to present you with some balancing changes for the City Project as well as bug fixes galore!  
Read all the details in the lists below! 
Thank you all for sending in info, observations and reports and don't hesitate to keep them coming if you notice something amiss.
Rollout plan v6.9.3.0.
11.07.2023 – Initial Rollout – 10:45 – 11:45 UTC+2 (+/-15 min)
 EN05 Cylinder Head, EN202 Loch Ness

 RU15 Ведущая ось, RU105 Бродвей

 DE09 Regulator, DE18 Stellwerk
13.07.2023 – Country Rollout – 10:45 – 11:45 UTC+2  (+/-15 min)
 EN01 Steam Boiler, EN02 Firebox, EN101 Rocky Mountains, EN201 Big Ben

 RU05 Коленчатый вал, RU201 Золотое кольцо

 DE01 Dampfkessel, DE201 Brandenburger Tor
19.07.2023 – Global 1 Rollout – 10:45 – 12:15 UTC+2  (+/-15 min)
 DE04 Kohlekasten, DE05 Kurbelwelle, DE07 Drehgestell, DE11 Dieselpumpe, DE105 Grand Canyon, DE107 Broadway, DE204 Neuschwanstein, DE205 Holstentor

 FR03 Boite à fumée, FR101 Golden Gate, FR201 Tour Eiffel, FR201 Arc de Triomphe

 N01 Nordic Rail, N101 Golden Gate

 ES01 Máquina de Vapor, ES02 Caja de Fuego, ES201 El Escorial

 PT01 Caldeira a vapor, PT02 Fornalha

 US01 Crankshaft, US102 Grand Central, US103 Broadway
20.07.2023 – Global 2 Rollout – 10:45 – 12:15 UTC+2
 CZ01 Kotel, CZ03 Komín, CZ07 Rychlík, CZ101 Golden Gate, CZ201 Vyšehrad

 GR01 Βραστήρας Ατμού

 IT01 Caldaia, IT03 Camino, IT101 Golden Gate, IT201 Colosseo

 NL01 Stoomketel, NL02 Kolenkast, NL201 Euromast

 PL05 Wał korbowy, PL101 Golden Gate, PL201 Wawel

 RO01 Cazanul de aburi, RO02 Cutia de foc

 TR01 Buhar Kazanı

 UA01 Паровий котел, UA02 Вугільна топка
Offline, Endgame or Short before Endgame  (+/-15 min)
These game worlds will get the update with the start of the new round:
 EN03 Smoke Chamber, EN203 Tower Bridge

 DE03 Rauchkammer, DE08 Kuppelstange, DE101 Golden Gate

 FR01 Chaudière à vapeur

 N201 Scandinavia

 PL01 Kocioł parowy, PL03 Komora dymna, PL11 Pompa diesla

 RU01 Паровой котел, RU204 Зимний дворец

 TR02 Ateşleme Ocağı

 US101 Golden Gate
Please note that the Orient Express game worlds currently running will not be updated, as they are too far into the eras when the update takes place.