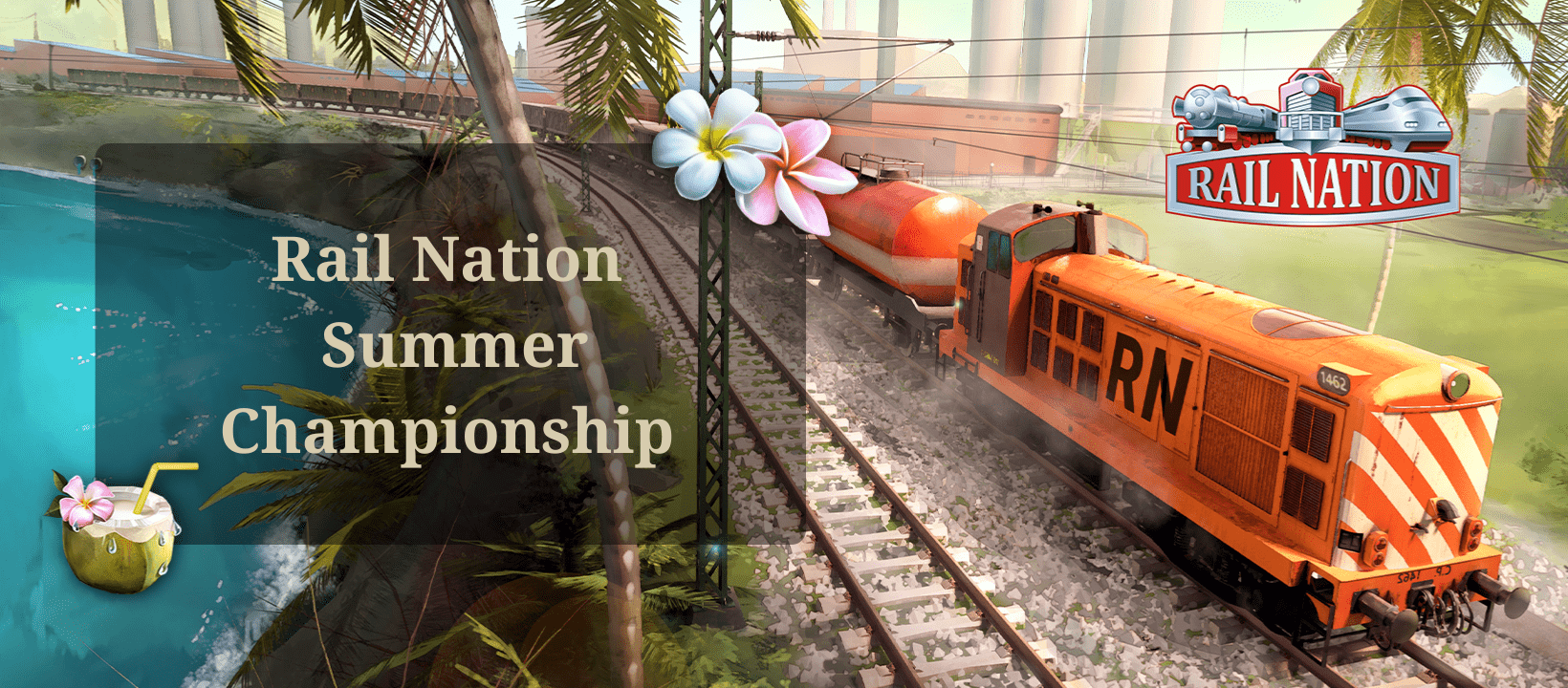 Get ready for the ultimate summer championship!
Get ready for the most thrilling event of July: the Rail Nation Summer Championship!
Prepare yourselves for a month-long extravaganza packed with excitement, challenges and a treasure trove of prizes that will leave you thrilled!
🏆 The quest for glory 🏆
Starting from
Monday, 3rd July
and continuing until
Monday, 31st July
this grand event will put your skills, creativity and strategic prowess to the test.
The [Rail Nation Summer Championship] is no ordinary event; it's an adventure that will unfold over multiple days and with various tasks.
🎁 Daily prizes and community rewards 🎁
Each week, from Monday to Friday, you will be presented with unique tasks that will require your unwavering dedication and cunning.
Embark on epic hunts for screenshots in the game, participate in sharing memories, songs and insights, and create awesome art to complete these tasks and gather summer prestige points as well as have a chance of claiming some solo prizes!
But that's not all! The Rail Nation Summer Championship is not just a solitary journey; it is an opportunity to forge strong bonds within our community. By collaborating and working together towards community goals, you and your fellow players can unlock awesome community rewards. Unleash the power of unity and revel in the joy of shared triumph!
🌟 The grand gold prize 🌟
At the end of this magnificent month-long event, the stakes will be at their highest! Every summer prestige point will bring you one step closer to the coveted grand gold prize. Only the most dedicated and resourceful players, those who have truly poured their hearts into every task and challenge, will have the chance to claim this extraordinary gold reward.
So, gather your wits, ignite your passion and rally your comrades! The Rail Nation Summer Championship awaits, and with it, a summer like no other.
May fortune favour the bold, and may the summer tracks witness your glorious triumph!
Community rewards:
1 voucher per event/day, if the community goal was reached. Can be redeemed by all players.
1 summer prestige point for every player who participated in the daily event.
Solo rewards:
3 winners per event/day, each receiving 1 voucher and 3 summer prestige points.
Grand gold prizes:
Based on the summer prestige point ranking.
1st place: 3,000 Gold
2nd place: 2,500 Gold
3rd place: 2,000 Gold
4th – 10th place: 500 Gold
---
How does it work?
Click here!

From Monday to Friday, we will post a new daily task for you to participate in.
Each task will be explained briefly within the Discord channel.
You can participate by using the attached thread for each task.
Each task has a community goal associated with it. (Example: if 25 players complete the task, you will unlock the community reward.)
For every successful participation, you will receive one summer prestige point.
For every task, three players can win a solo prize and 3 summer prestige points each, based on different parameters.
In our Rail Nation Summer Championship ranking, you can check how many points you have gathered at any given time: RANKING
Solo prize vouchers will be sent to the winners via Discord DM by the Community Manager who ran the event.
Community reward vouchers will be posted in the Event News channel once the task is over and the challenge completed.
If you want to be pinged/reminded about the daily tasks, then click on the coconut emoji at the bottom of the announcement. In addition, you'll have a special role icon displayed by your name — yay! (If you "un-click" the emoji, you will no longer get pinged; however, you will also lose the special role icon.)
---
Competition guidelines, information and edge cases:
Click here!

The following rules apply to all daily events, without them being mentioned in the single event announcements unless stated otherwise.

You may participate in every daily task once and can only win once per task. (If you want to adjust your submission, please edit it before that daily event is over. Do not post a second time.)
Multiple submissions will be removed by the Community Manager with a warning. No warning will be given if it happens multiple times.
You may gift your solo prize voucher code to a different player if you want. Simply give them your voucher code. Be aware that if you share your voucher code with someone else, you will no longer be able to redeem the reward yourself.
If you win the solo prize and 3 summer prestige points, you are not eligible for the 1 summer prestige point that everyone gets simply for participating.
You may redeem each community reward voucher, regardless of whether you participated in the event or not.
You may share each community reward voucher with all your friends.
All screenshots, artworks, texts and posts must be your own and created by you.
All artworks, texts, quotes and similar may be used by the Rail Nation Team for promotional purposes.
Should two players have the same number of points at the end of the month and are eligible for a gold prize, the player who reached that number of points first will rank before the other.
The Rail Nation Team reserves the right to disqualify participants or dismiss achieved community goals if we notice any cheating or disregarding of our event guidelines.