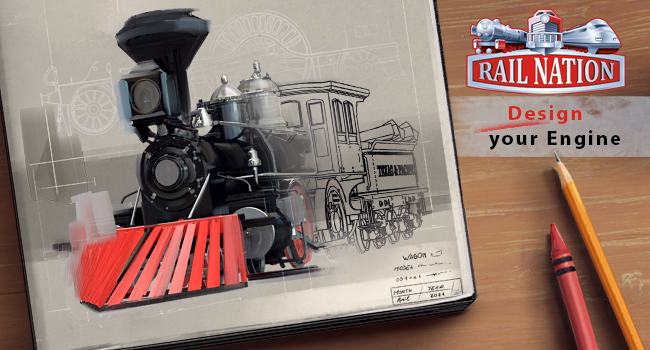 Dear players,
In April 1829, the Liverpool and Manchester Railway (L&MR) announced an engine design contest known as the Rainhill Trials. Engineers from across the land were tasked with creating an engine to travel the 1.6 kilometers of track. Five locomotives entered, and one successfully completed the trial. That engine became the famous George Stephenson's cargo and passenger steam train, known as "The Rocket". It was from this engine design that most commercial locomotives were then founded.
This momentous event helped shape the world of train engines that we experience today, and we have taken inspiration from it. So, in recognition of the incredible design of the Stephenson's Rocket, we will be hosting the "Rail Nation: Design an Engine Contest"!
Rail Nation: Design an Engine Contest – Details
Date: 20th April 2021, 14:00 CEST – 20th May 2021, 14:00 CEST
Task: One blank template of the selected Era 1 engine will be available in JPG and PSD files for the community to download. The community is tasked with decorating and redesigning one of the available engines, for the 21st century.
Contestants can use any method to decorate these engines:
Digital methods – MS Paint, Photoshop etc.
Traditional methods – painting, colouring with pens etc.
3D modelling
Figure painting
Anything that sparks your creativity!
Submissions: You may submit your design by posting your image onto the Rail Nation forums or Discord before the competition end date.
Winners and their selection: Three winners will be selected, globally and not per region. The Community Management Team will choose the three best designs from all participants, and the community will then vote on their order (1st, 2nd and 3rd).
Prizes:
Everyone who participates will receive a bonus code for 5 lottery tickets!
1st place: 1 bonus engine (current or previous era's bonus engine of the player's choosing, excluding the Primus), 300 Gold and 20 lottery tickets
2nd place: 250 Gold and 15 lottery tickets
3rd place: 150 Gold and 10 lottery tickets
Rules:
The designs submitted must be your own and not the creation of anyone else, except for family members (children etc.).
The community rules of conduct still apply to all images submitted to this contest, so please ensure you do not submit any images that break those rules.
Don't forget; all participants will receive a bonus code for five lottery tickets. So, don't miss out!
Put on your engineer cap and reinvent these engines as the 21st-century Rocket!